Photos: See What Happened To This Nigerian Man After He Took A Malaria Drug Called "Grutha Fort"
The below pictures you see, are currently going rounds on Facebook.. An unidentified man is reported to have consumed a Malaria Drug, called: "Grutha fort"…
…and then he reacted badly to the drug.. Though, some folks are arguing that it's a Steven Johnson syndrome, while others are saying the drugs probably contained sulfur.
But here's what we know.. According to Okereke Grace Amarachi, he Took the Malaria Drug, and reacted really bad to it! We don't have much details yet, but we'd bring you more, as it unfolds.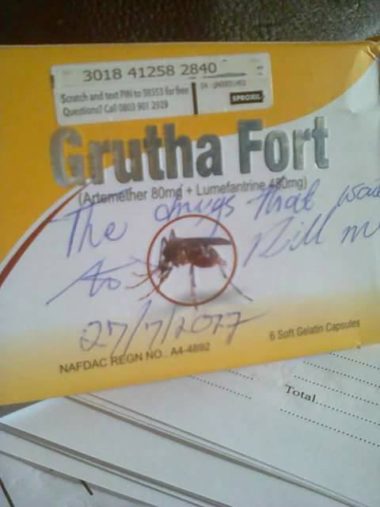 Joseph Okoeguale Not necessarily a fake antimalarial. most likely an adverse drug reaction from sulphur containing medications such as fansidar and others……..
Omeje E. Onyeka The drug may not necessarily be fake.He is probably allergic to one of the active ingredient. The The drug doesn't contain sulfur. However, people react to certain ingredients differently. He only needs to note whatever the drug contains and avoid such drug in the future. He can also report back to the pharmacist to help him fill pharmacovigilance form.
A D V E R T I S E M E N T
---
****Do you have any
TIP OFF or a News Story,

you would want

Gossipmail.co

to publish? Send us an email to gossipmailco@gmai.com or Whatsapp us on (233) 0264085131 Now!